One of many fascinating things about money, as it persists across continents and centuries, is its ability to bend even the most hardcore political convictions around itself. In the early 2010s, the Citizens United case in the US Supreme Court allowed massive dark money injections into the public arena, and that money corrupted grassroots movements like the Tea Party into a force for protecting the interests of the elite. In Canada, our government routinely condemns atrocities like the war in Yemen or the genocide of Indigenous populations, yet we continue to broker the sales of tens of millions of dollars worth of arms to Saudi Arabia, and we sell off unceded land all the time.  
We've come to expect this behaviour in mainstream politics. You can't push your agenda unless you're elected, and you can't get elected unless you promise to make people money, so politicians will always compromise on their convictions in order to stay in power. But what's especially interesting is that this phenomenon even applies to people with extremely fringe ideologies, people who have next to no hope of winning over enough hearts and minds to ever impose their worldview, often explicitly because of their unwillingness to compromise.
Take for example the case of Mike Perdue and his pals. Klansmen, neo-Nazis, white supremacists, and would-be mercenaries, these hardline racists so craved capital that they were willing to fight alongside people they were convinced were fundamentally inferior. They wanted money so badly that they were willing to work with extremist followers of an Afrocentric ideology and elevate a Black man to a position of significant power. In order to set up a global white terror network, Perdue and Droege wanted for a base of operations an island inhabited almost entirely by the ancestors of survivors of slavery, an institution that the two probably fucking wished was still around. 
This utterly staggering level of cognitive dissonance is central to what is either a story about incredible greed or unbelievable stupidity, but to be honest, I really can't be fucked to figure out which one it is. Probably both. What's more important though, is that this is one of the most batshit stories I've heard in a long time. This is the story of Operation Red Dog. 
The final plan for Operation Red Dog, which involved all the things I've so expertly foreshadowed, came together in a roundabout way. Its roots are on the Caribbean island of Grenada, in 1979. In March of that year, the newly independent nation's first prime minister, Eric Gairy, was removed from power while he was at a UN function in New York, where he was legitimately probably trying to get the international community to care more about UFOs (this is real), and a new pro-Soviet, pro-Cuban Marxist government installed itself. This was of great concern to many right-leaning Americans, who viewed the Caribbean and Latin American theatre of the Cold War as an existential threat. 
Eric Gairy probably trying to get the UN to care about UFOs again
Among these was Mike Perdue, a 30-year-old truck driver living in Texas who had been kicked out of the Navy for recruiting fellow shipmen into the Ku Klux Klan.Perdue fancied himself a mercenary — He reportedly subscribed to Soldier of Fortune magazine and was obsessed with Frederick Forsyth's "Dogs of War," a book about adventuring warriors-for-hire. In reality, he was more of a con man, apparently able to convince a number of fairly powerful people that he could be trusted and that he could handle his shit, despite no real track record to back it up.
It was in this capacity that soon after learning of the coup in Grenada, Perdue flew to meet Gairy in San Diego, where he was living in exile and apparently seeking men and guns to reclaim his homeland from the Commies. Perdue pitched Gairy his services as a coup organizer I guess, and though the former president didn't accept the offer, he also didn't exactly say no. That was good enough for our little KKKonman, who reached out to the Klan's former Grand Wizard, David Duke, seeking contacts. By the way, if y'all ever want a good laugh, you should look up all the different titles for KKK leaders, shit's straight out of a DnD campaign — "Grand Wizard" is not nearly as ridiculous as it gets.
So after the Duke referrals, Perdue spent about a year or two networking, recruiting other white supremacists to his half-baked cause. During this time, it became clear that this merry band of racists would not be able to take on the whole of Grenada's army, which was no joke, as well as contend with the number of hardened Cuban fighters reinforcing the island. But all was not lost. The self-styled mercs had already been eyeing the tiny nearby island country of Dominica (pronounced Dom-i-KNEE-ca) as a sort of staging ground for the proposed invasion of Grenada. The group now turned their full attention to Dominica. 
Perdue came up with a plan that would benefit everyone involved. He convinced the North American white supremacist establishment that taking control of Dominica would provide them the shield of genuine, UN recognized sovereignty, from behind which they could do all the Naziing they wanted. They could be free to Nazi the day away, without anyone looking down on them for once. Finally, am I right? He also allegedly convinced members of organized crime to arm his crew in exchange for the freedom to run drugs and weapons through Dominica once it was under his control. Finally, he convinced the recently ousted prime minister of Dominica, Patrick John, that the group would reinstate him if he helped with the invasion. According to one of Perdue's co-conspirators and founder of the Canadian KKK, Wolfgang Droege, John was not aware that he was dealing with literal Nazis, just opportunists.
Patrick John

Patrick John was also the first prime minister of his new country, but his rule only lasted for a year, before a hurricane and inadequate management of the economy led to popular demand for his ouster after only a year. He was replaced by Eugenia Charles, the first elected female prime minister of a Caribbean nation and a staunch US supporter. John evidently didn't feel he got a fair shake at the top job, and so, according to a New York Times report from 1981, he signed a contract with Perdue which stated that if he were reinstated as prime minister, the former would receive $150,000, a top government position, the right to oversee Dominica's army, and control of a state enterprise that would manage a number of different industries.
In striking this alliance, Perdue obtained the support of the Dominican Defense Force (DDF) which had remained loyal to John, as well as the support of a local violent Rastifarian extremist group and marijuana-growing gang operation whose members were known as Dreads (insane name). This is probably the craziest part to me. One of the principal tenets of Rastafarianism is the rejection of Western culture, referred to as Babylon, and most Rastafarians maintain an Afrocentric worldview. This is literally the exact opposite of white supremacy, which generally views non-white and particularly Black culture as inferior and/or the product of barbarism. And these two groups were ready to work together. Fucked. I can't imagine what those meetings would have been like if all three parties had gotten a seat at the table under a new regime.
Luckily, we'll never know. It was at this point, as plans began to finalize, that everything fell apart. First, Perdue needed to acquire a boat to take him to Dominica. It just so happened that the captain they found in a New Orleans marina, a Vietnam veteran with an artificial arm named Mike Howell, had had friends who worked in the Bureau of Alcohol, Tobacco, and Firearms. Howell tipped them off, and the Operation was as good as over then and there. What's hilarious though is that apparently what made Howell suspicious was the fact that Perdue attempted to pose as a CIA officer tasked with carrying out a covert coup in Dominica, but Howell "thought we didn't do that kind of thing in other countries anymore." Two years after Operation Dog Dicks was foiled in 1981, the U.S. invaded Grenada and overthrew the communist government with the support of Eugenia Charles.
But I'm skipping ahead. Around the same time, officials in Canada also learned of the plot from a reporter who had been asked along by another Canadian co-conspirator with an apparent vanity problem. And officials in Dominica learned of the plot from an intercepted note imploring the North Americans to speed up their invasion. In response, Charles' government arrested John and disbanded the DDF. Even this wasn't enough to deter the Nazis — they planned to break John out of prison upon arrival — but the evening the mercenaries, 10 men in total, were set to depart from New Orleans, the FBI and ATF arrested everyone before they got on the boat, which never would have left anyway. Notably, among those arrested was American neo-Nazi Don Black, who would go on to learn programming in prison and later start the popular and wildly virulent white-supremacist internet cesspool Stormfront.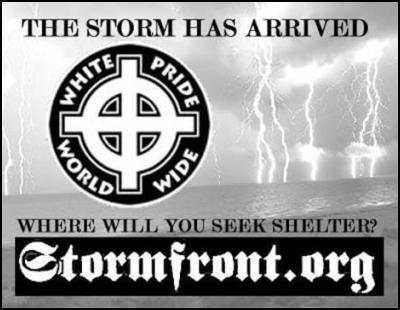 Just some light neo-Nazi propaganda to round out this story for you


Two other Canadians were also arrested in Dominica, the government alleging that the first, a woman named Mary Anne McGuire, had been acting as some kind of advance woman providing logistical support to the invasion, and the second had allegedly tried to help the first escape. McGuire was found out when a hotel receptionist intercepted a coded message: "Alexander is dead," which was apparently the signal to abandon the operation. Charles had survived the second and final coup attempt against her, and she would go on to become a staunch ally of president Ronald Raegan. 
Meanwhile, back in Canada, after Wolfgang Droege got out of prison, he co founded the Heritage Front, a far-right nationalist and racist political organization that actually threatened to break into mainstream politics at one point, but it was eventually brought down because the other founder had been working with CSIS the whole fucking time. Just this guy's luck to be honest. Droege retreated into relative obscurity and was eventually shot and killed in Scarborough by a client of his coke business.
Christ, what a disaster. But again, I can't tell if this story is the product of pure idiocy, because they couldn't understand that they'd been beaten, or pure greed, because the men could have given up at so many different points. In the end, they were only ever charged with violating the Neutrality Act, which says that US citizens can't go to war against a country that the US isn't at war with, so if they'd just never met up in Baton Rouge and never driven to the marina that day, would they have walked free to concoct some other batshit cash cow scheme? I guess we'll never know.
It's easy to dismiss this story as the dumbest shit you've ever heard, but to be fair, I think these guys actually got the closest to setting up a reliable revenue stream for the white supremacist movement than anyone since Hitler. Nowadays, the far-right rely on cheque donations, because no credit card processors will work with them, and obscure crowdfunding websites for money. A 2017 report by the Anti-Defamation League details how difficult it is for white supremacists and neo-Nazis to make money these days and I almost feel sorry for them except not at all actually. 
Maybe these guys were on to something. It seems like seizing Dominica was the Nazis' only real chance at power in this age. Nah, who am I kidding, once everyone found out who they really were, they would've been killed by the Dreads, or thrown in jail by Patrick John, or maybe assassinated by the real CIA. I guess maybe that's the moral? The only way to succeed as  a neo-Nazi is to not tell anyone that you're a neo-Nazi and also not act like a neo-Nazi and just suspend all your beliefs indefinitely because they're useless and nonsensical anyway. I've heard money can do that for you. Maybe that's not such a bad thing after all.